BOOK AN APPOINTMENT
Welcome to ALORF HOSPITAL'S Outpatient Clinics Appointment booking. Patient can book an appointment by calling 2455-5050 and dial the extension numbers of the departments you want to have an appointment. Or a client can also come personally to the reception to get an appointment.

INSURANCE COVERAGE
Our Medical Insurance department has designed a payment scheme for patients under a private insurance program. Our hospital has arrangements with most Medical Insurance Companies in Kuwait .
For More Information
WELCOME TO ALORF HOSPITAL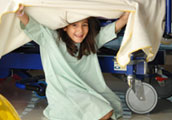 At Alorf Hospital, we are committed to provide the highest quality of healthcare services available. For Patients who are anticipating a visit to Alorf hospital, this is where general information about the hospital can be found. We invite you to browse through these pages to familiarize yourself with what to expect when you arrive at Alorf.
The concern of our doctors, nurses and hospital personnel is to make your stay with us as comfortable and pleasant as possible. We all work together to give you the most efficient service we can.
Your welfare is the main interest of each of us here, if anything causes you inconvenience, please feel free to bring the matter to our attention. We will welcome the opportunity to correct any oversight, or clear misunderstandings.
We hope that when you leave us, you will feel the renewal not only of your body but also of your mind and spirit.
News & Events
2015-01-15 16:42:06

Gallery